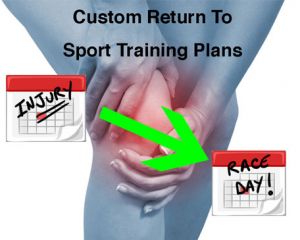 Custom Plans Starting At $1/Day
Custom plans come in several options or combinations including:
Maintenance plans. Looking for a personalized mobility/strength plan to incorporate into your season? These plans are built based on your injury history, training schedule and personal goals. This is a communication heavy plan as it requires frequent feedback to ensure that a) it's not interfering with your training and that b) it's effective. The goal of these plans is to build a program that is easy, time efficient and repeatable day in and day out.
Return to training/racing plans (aka return to sport). Injured with your big race looming? This is the plan for you. These plans range anywhere from providing crosstraining options to maintain fitness while recovering to helping you ramp back up to get to that start line. Like the maintenance plans, these are communication heavy. The primary goal of these is to ensure that you are healing properly as you return to formal training and racing.
Off season/strengthening routines. This option is for people looking to change up their offseason by jumpstarting their mobility and adding in sport specific core/functional training.
What to expect when you sign up:
1) After I recieve your email, I will send you a questionnaire so that I can get a better idea of your injury, how it started, what treatment you've had, etc. If you are looking for an off season plan or maintenance plan, the questions will be geared towards your goals for the plan, as well as, your injury history.
2) Once I receive the completed form, the next step is to set up an initial skype call to review everything. If you don't have a skype account, a phone call/facetime works just as easily. Regardless of the method, the purpose of this call is to identify the problem and lay the ground work for the plan. Depending on your injury/goals, following the call I may ask for video/pictures to better assess your mobility/strenght/gait/etc (all of which can be done using your smart phone!).
3) Weekly plans are delivered using google docs. This keeps the plans from being lost and allows for easy communication, changes, etc.
4) Follow up calls/email as needed. As stated above, the key to any of these plans is communication! In the early stages of the plan, learning how to properly perform the techniques is essential.
5) Cost and payment. The cost for a custom plan is $30-50/month and is based on the complexity of the case. This is assessed during the initial email/questionnaire phase and agreed upon prior to the skype/phone call. I use paypal as the payment method.
Please email for further details or with questions and please put "custom plan" in email title!!!
One Time Phone Consultation- $50
Have questions or want personal guidance but don't need a formal monthly plan? This is the option for you.
Typical topics covered:
What techniques on the ATA site should I be using and where?
How do I add them into my training? How often should I be using them?
How do I know when I need a doctor or a specialist? How do I know if they're right for me as an athlete? What do I look for in a massage therapist/chiro/PT/MD?
I haven't been able to get back to normal training/racing despite seeing doctors, specialists, etc. What do I do?
I don't see my injury or sport on your site but I still want to apply the ATA techniques. Which ones do I use/when/etc?
The list can go on and on. As I always say, my goal with this site is not to keep your from your doctor. It's to help educate you on what you can do on your own and who can help you when that isn't enough!